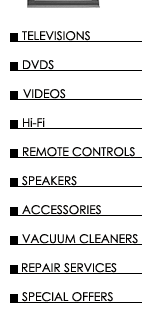 Toshiba 34cm Television/VCR Combi





Screen Size - 34cm
Mono TV
Mono 2 Head Long Play VCR
NTSC Video Playback
Auto Set-Up
SCART
Text with Fastext
Front AV INput
6 Event Timer
One Touch Record
Index Search

Price: EUR 299

Low Stock

Code: VTV1403


<< Back

Austin's TV & Video stock an extensive range of colour, portable and widescreen televisions.





For your convenience we will soon be offering a fully secure online store through which you can order the products of your choice. At present we accept credit card orders by phone or fax and can also accommodate cash on delivery payments if so required.





Online Shopping made easy.