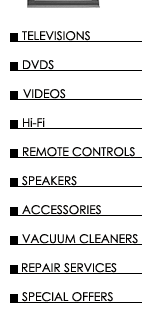 Toshiba Home Cinema Enthusiast DVD


Key Specification:

DVD/VCD/CD/CD-RW Compatible
25% Shallower Depth
Component Video Output (Y,Pb,Pr)
Audio DAC: 192kHz / 24Bit
MP3 Playback

Player Features:

New Enhanced Video Amplifier
New Advanced DAC
- Multi-Bit Delta Sigma 192Khz/24Bit
Dynamic Range 108dB
Total Harmonic Distortion
- < 0.002%
Bit Rate Display
Variable Zoom (1.5, 2.5 or 3.5)
3D Audio Spatialiser
Jitter Reduction
Icon On Screen Display
CD Text

Connections

Component Video Output (Y, Pr & Pb)
SCART (RGB) Output
S-Video Output
Composite Video Output
Digital Co-axial and Optical Audio Output
Analogue 2 channel audio output

Dimensions: (w)430 x (h)81 x (d)225mm

Price: EUR 319

Code: SD210E


<< Back





For your convenience we will soon be offering a fully secure online store through which you can order the products of your choice. At present we accept credit card orders by phone or fax and can also accommodate cash on delivery payments if so required.





Online Shopping made easy.