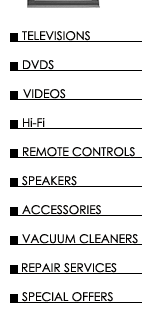 Toshiba 36" Widescreen Flat Face Dolby Digital Television


36" Widescreen Flat Face Dolby Digital Television

Flat Face Picture Fram
Toshiba Microfilter
Invar Mask
100Hz Dynamic Frame Scan
Digital Comb Filter
Super Scene Control
Super Real Transient
Dynamic Scan Control
Digital Noise Reduction
Dolby Digital Surround
Audio Output 63W RMS
Super Woofer System
UHF/VHF/Hyper
PAL 1/BG/DK
SECAM/BG/DK/L
NTSC BG 4.43
Pal/SECAM/NTSC Playback
3 Scart Inputs
RGB Input (via Scart 1)
S-Video Inputs
Front AV
Component Video Input
Audio Outputs (Lefft and Right)
External Speaker Connections
Auto Set-Up
500 Page Megatextwith MediaWindow
Icon Driven Menus
Widesreen Signalling
Panel Lock
On/Off Timer, No Signal Off

Price: EUR 2839

Now with Free DVD !

Code: 36ZP18P



<< Back



Austin's TV & Video stock an extensive range of colour, portable and widescreen televisions.





For your convenience we will soon be offering a fully secure online store through which you can order the products of your choice. At present we accept credit card orders by phone or fax and can also accommodate cash on delivery payments if so required.





Online Shopping made easy.