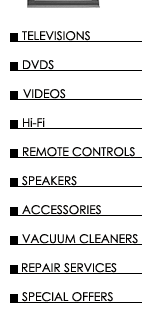 Panasonic 28" Widescreen Television


28" Widescreen Television

67cmV FST Quintrix Picture Tube
Nicam Digital Stereo
14W RMS Audio Output
16:9 Widescreen Technology
Automatic Aspect Ratio Change
Vertical Position Shift
Just Mode
Digital Management System
Colour Transient Improver
Picture Noise Reduction
Q-Link (data communication from the TV to compatible VCR)
Tuner Download Facility
Direct TV Record
Fastext
Double Sleeve Front Facing speaker system
3 x AV terminals
2 x Audio Out
Headphone Terminal
Logical On Screen Display with Help Menu
Remote Control
Owner ID
Child Lock
Supplied with Cabinet VSDK1/2

Price: EUR 699 (799 with stand)

Code: TX 28DK1


<< Back



Austin's TV & Video stock an extensive range of colour, portable and widescreen televisions.





For your convenience we will soon be offering a fully secure online store through which you can order the products of your choice. At present we accept credit card orders by phone or fax and can also accommodate cash on delivery payments if so required.





Online Shopping made easy.