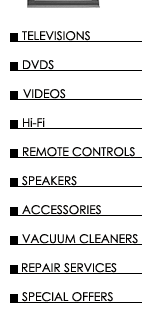 Hitachi Home Cinema DVD



The HTD-K150 combines a DVD player with a powerful Dolby Digital/DTS Surround Sound receiver and 5-speaker surround sound package with matching Subwoofer.

Unique Total Home Cinema Solution
DVD Player with Built In Receiver
Ability to Read MP3/CD-R/CD-RW
Playback on DVD/VCD/CD
Dolby Digital
AM/FM Digital Tuner
5 x 25W RMS Output
Subwoofer Output 75W RMS
5 Speaker Surround System
Stylishly designed Satellite and Centre Speakers
Sleep Timer
Full Remote Control



Price: EUR 599

Code: HTDK150


<< Back





For your convenience we will soon be offering a fully secure online store through which you can order the products of your choice. At present we accept credit card orders by phone or fax and can also accommodate cash on delivery payments if so required.





Online Shopping made easy.