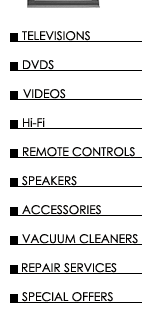 Hitachi DVD



Enjoy your favourite movies as you've never enjoyed them before, with outstanding picture quality and Digital surround sound. Then when you've had your fill of films, stick in a fvaourite music CD and make a copy for the car, the bedroom, wherever you want. You won't find many DVD players as versatile as this.

2 Laser/2x Speed PC Drive
Playback on DVD/VCD/CD/CD-R/CD-RW
Dolby Digital 5.1ch Decode System
Dual Drive (DVD/CD-R/CD-RW)
Dolby Digital/MPEG Multichannel/DTS Digital Out
Virtual Sound System
Disc Navigation System
120x Search Speed Facility
Smooth Search System
2x/4x Selectable Area Zoom Function with Indicator
Outputs - Analog Video Out/Video S Out/Coaxial Digtal Out/SCART Out (with RGB)/5.1ch Audio
Double Speed Audio Dubbing
Disk, Title and Programme Audio Dubbing
Screen Saver Option
Jog Shuttle on Remote Control

Price: EUR 599

Code: DV-W1E


<< Back





For your convenience we will soon be offering a fully secure online store through which you can order the products of your choice. At present we accept credit card orders by phone or fax and can also accommodate cash on delivery payments if so required.





Online Shopping made easy.