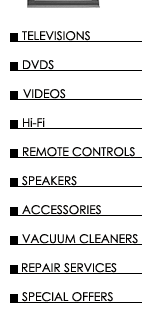 Hitachi NICAM VCR + DVD Player



Offering a whole host of features, Hitachi's stylish NICAM Video Recorder and DVD Player comes in one complete unit. In addition to DVD's, the DV-PF2E can read CD- Recordable, CD Rewritable and MP3 encoded discs, as well as conventional CD's. And of course, the NICAM VCR has all the usual features that make it so easy and enjoyable to use.

DVD PLAYER :

Dual Laser Drive
Playback on DVD/DVD-R/VCD/CD/CD-R/CD-RW/MP3 Dolby Digital/Digital Out
On-Screen Display Virtual Surround Sound System
2x/4x Selectable Area Zoom Function Smooth Search System
Screen Saver Option VCR PLAYER :

6 Head NICAM VCR VideoPlus

Long Play/Short Play Recording Freeze Frame and Still Advance Facility
On Screen Display Front AV Inputs
PDC 2x/4x Selectable Area Zoom
Smooth Search System DV-PF2E Dimensions (WxHxD) 435 x 99 x 266

Price: EUR 499

Code: DV-PF2E



<< Back





For your convenience we will soon be offering a fully secure online store through which you can order the products of your choice. At present we accept credit card orders by phone or fax and can also accommodate cash on delivery payments if so required.





Online Shopping made easy.