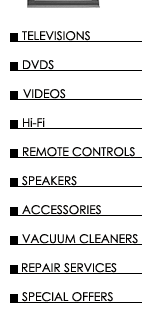 Cinemavision LCD Projector


55" (140cmV) Widescreen Rear Projection Television

If you thought a big screen meant a big TV, think again. Hitachi's newly designed and stylish looking CinemaVision Projector is smaller than a video recorder, but projects images up to 300"(25') in size on to a projection screen, or directly on to a wall.

Highly Portable for Mobile Use (A4 size and 2.35Kg in weight)
Short Throw Distance with Wide Angle Zoom Lens
(projects 1.5m picture at a distance of just 1.5m)
Low Acoustic Noise Operation
Light Output of 800 Ansi Lumens
Video and Data Supported
16:9 and 4:3 Aspect Ratio Compatibility
Digital Keystone COrrection Feature
Built-in Internal Speaker
Illuminated Buttons for easy operation
Fully functional Remote Control

Price: £ 2749 / EUR 3491.23

Code: CPS220CE


<< Back



Austin's TV & Video stock an extensive range of colour, portable and widescreen televisions.





For your convenience we will soon be offering a fully secure online store through which you can order the products of your choice. At present we accept credit card orders by phone or fax and can also accommodate cash on delivery payments if so required.





Online Shopping made easy.