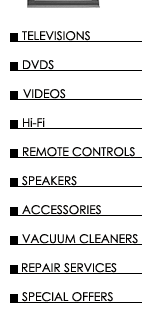 Hitachi 43" Rear Projection Widescreen Television


43" (109cmV) Widescreen Rear Projection Television

A "smaller" version of our 55" (140cmV) rear projection television, if any TV with a 43" screen can be called small! Thrill to the sound of a Dolby Digital Surround Sound System, DTS and MPEG and enjoy the quality of pictures delivered by our Progressive Scan and 100Hz Natural Scan technologies.

43" (109cmV) Widescreen TV
Progressive Scan technology
100Hz Natural Scan
Magic Focus
Super Bright 5 Lens System
Lenticular Screen
Dolby Digital/MPEG Multichannel/DTS Surround Sound
105W RMS Output
Surround Sound Speakers Supplied
Built-in Centre Speaker

Price: £ 2799 / EUR 3554.73

Code: C43WP910TN


<< Back



Austin's TV & Video stock an extensive range of colour, portable and widescreen televisions.





For your convenience we will soon be offering a fully secure online store through which you can order the products of your choice. At present we accept credit card orders by phone or fax and can also accommodate cash on delivery payments if so required.





Online Shopping made easy.